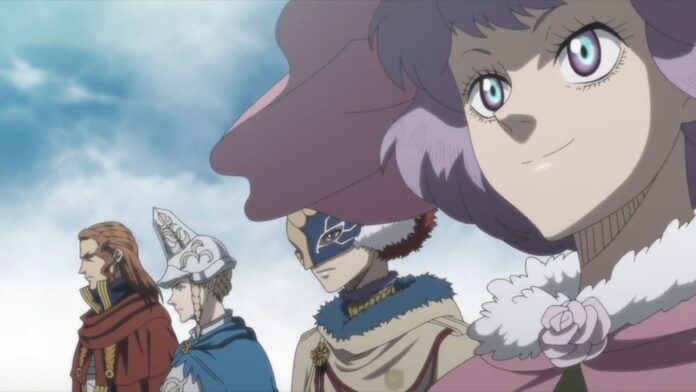 Hello folks. Today in this article we are going to talk all about the new episode of Black Clover. Here we will discuss the release date, spoiler as well as the preview of the new Black Clover  Episode 153.
So, let's get started. This post will also contain some spoilers of the previous Episode 152, so if you don't like spoilers- I'd recommend you skip to the release date and preview section.
Asta is working hard to prove that even if your poor or a peasant you can still shine in this world.
Black Clover Episode 153: Release Date
The new episode will be out on Tuesday, 24th November at 6.25 pm JST. Please note carefully that this is according to the Japanese standard time so don't forget to change it to your local time.
Black Clover Episode 153: Where to watch?
Fortunately, there is no hiatus in the release dates. And it will be released on Crunchyroll and Funimation too!
Black Clover: Spoilers
Right now, we do not have any spoilers on the latest episode. We will get to know more soon and will keep you guys updated!
Black Clover Episode 152: A quick recap
Asta is being chased by the crows and the students laugh at him that he can't handle the crow and he has a little mana. Meanwhile, Noelle met with Nozel and she told him that she was invited by Asta.
Black Bulls! It's not just a squad, it's a family. ?#ブラッククローバー#BlackClover pic.twitter.com/nR3sGswlve

— d o n n a ?? (@iluvluvnutella) November 17, 2020
They want to go back to their roots preparing for the upcoming battle. Nozel reminds Noelle that it has been a year since she has left and she remembers the day she left and join the BB squad. Later they enjoy watching the entrance exam. After it is finished Marx finds Julius wandering around and said he knew he will find him here.
Black Clover Episode 153: Preview
This is all we have on the latest episode. the wait will be over soon. Till then, have a look at our other articles on Kingdom, Dr. Stone, Boruto, and One Piece.