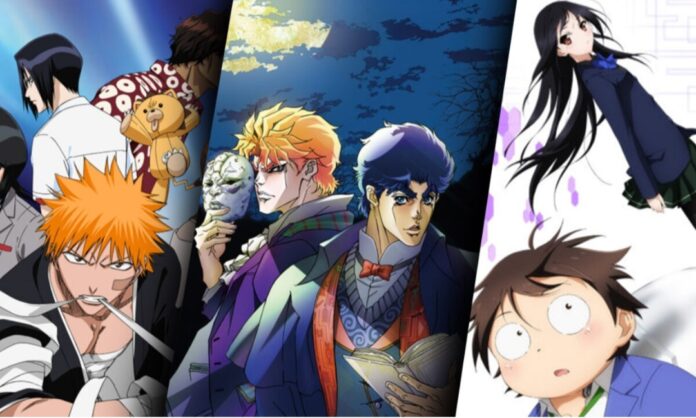 On 12 April 2023, Funimation announced that it will stream 3 anime series and more from Viz Media. Thanks to their partnership, we are getting to binge-watch some amazing anime on the popular streaming site.
Funimation is currently streaming other anime series from Viz Media like Naruto and Hunter x Hunter. Now, without further ado, let's get into it!
Funimation To Stream 3 Anime Series
JoJo's Bizarre Adventure: Parts 1-3
JoJo's Bizarre Adventure is one of the most famous and influential anime ever. The show adapted from the manga in 2012. Many of the character concepts, images, and ideas-like "stands," a physical manifestation of psychic power.
The seminal manga group CLAMP began their careers making fan comics based on JBA characters. However, the persona series, in particular, owes a lot of JBA's. Since the titular personas are just Stands by another name.
Hirohiko Araki, JBA's writer, and illustrator is so renowned that his work has been shown at the Louvre.
Recently during the 'JoJo's Bizarre The Anime Special Event,' it confirmed that the series 6th season is in production. Furthermore, they will look to adapt the Stone Ocean story arc from the manga.
While no premiere date was given, a teaser trailer was shown. With the release of 5 seasons, the 6th season will likely be released sometime in 2023.
Synopsis
JBA is the story of the Joestar family, starting with Jonathan. He is a mild-mannered Englishman who strikes up a rivalry with Dio Brando, his adopted brother. Because of a cursed mask, Dio becomes a powerful vampire, and Jonathan swears to stop him.
After learning a fighting move called the "Ripple," which allows Jonathan to kill vampires by punching the sun into them, he goes on a quest to defeat Dio for good.
Also Read JoJo's Bizarre Adventure Stone Ocean Key Visual Released!
Bleach: Episodes 1-109 (the U.S), 1-209 (Canada)
Bleach began as an adaptation of the popular Shonen Jump manga beginning in 2004, animated by Studio Pierrot of Naruto fame. Due to its popularity and similarity to other popular titles, Bleach became known as one of the "Big 3" alongside Naruto and One Piece.
Compared to the other two, Bleach is a more modern setting which, for Westerners, can make it more difficult to get into due to the very noticeable cultural differences displayed.
Synopsis
The story revolves around a 15-year-old brash Ichigo Kurosaki, who is often picked in because of the unusual bright orange color of his hair. Although he seems like a hot-headed troublemaker; he has the unique ability to see ghosts and spirits in the world around him that other people can't see.
This ability allowed him to meet Rukia Kuchiki, a shinigami (soul reaper) from the spirit world known as Soul Society. Ichigo begins to battle hollows as a death god, as his mother was killed by one.
Accel World & Accel World: Infinite Burst
Accel World is based on a novel that includes a total of 24 chapters. It is produced by the rewarded producer Genco. Currently, Accel World is highly popular and is listed among the genres: Action, game, and sci-fi.
Synopsis
Haruyuki Arita is an overweight, bullied middle schooler who finds solace in playing online games. But his life takes a drastic turn one day when he finds that all his high scores have been topped by Kuroyukihime, the popular Vice President of the school council.
She then invites him to "Brain Burst," a program that allows the users to accelerate their brain waves to the point where time seems to stop. Brain Burst also functions as an augmented reality fighting game.
Since the girl helps Haruyuki overcome the bullies that torment him, he vows to help her realize her final, and so begins the duo's fight to reach the top.
Funimation To Stream More Other Anime Series:
Naruto Shippūden: The Will of Fire
Naruto Shippūden: The Lost Tower
Naruto Shippūden: Blood Prison
Naruto the Movie: Road to Ninja
Naruto: The Last Movie
Infini-T Force
Mazinger Z: Infinity
Vampire Knight
Vampire Knight Guilty
K: Season 1
Funimation and VIZ Media Partnership
Funimation and VIZ Media announced a distribution partnership back in 2020; intended to bring some of VIZ Media's popular and iconic anime titles to Funimation. Both the companies have been central to the growth in popularity of anime and manga in the U.S for more than two decades.
The partnership further deepened Funimation's catalog and delivered iconic anime titles including:
Sailor Moon R: The Movie
Berserk: The Golden Age Arc ll – The Battle for Doldrey
Berserk: The Age Arc lll – The Advent
Terra Formars
Terra Formars Revenge
Completion
Gargantia on the Verdurous Planet
Megalobox
"We're incredibly excited to partner with VIZ Media in bringing even more great anime to Funimation," said Colin Decker, CEO of Funimation Global Group. "Bringing this catalog to our subscribers is a win for anime fans everywhere!"
Thanks for reading "Funimation To Stream 3 Anime Series From VIZ Media's Catalog. Check Out Now!" For more latest updates & news, stay tuned to us!