Black Clover Manga is finally about to go all out with some insane action. We saw in the Black Clover Chapter 317 that Lucifero finally manifest in the human world. And he already has demonstrated an unbelievable power level. Making Asta scared and sweating bullets. Black Clover Chapter 318 will be a top-notch chapter. But the main question here is will Asta die?
Read the article till the end to find out the fate of Asta and our Magic Knights. If you haven't read the previous chapter yet, this post is filled with heavy spoilers. don't worry we will guide you from where you can read Black clover Manga. And when's the new chapter is coming out which is delayed by a week. Also a quick recap of Black Clover Chapter 317.
Have a good read, and don't forget to check our other latest articles on the latest Anime & Manga developments.
Black Clover Chapter 318:
Lucifero's manifestation is massive and game-changing. In the previous chapter with Lucifero's monster is destroyed. And Yami & William liberated, the battle should have ended. It seems even after the Underworld gate was closed Lucifero has managed to manifest in some way.
As the Spade and clover kingdom's magic knights were taking a sigh of relief and thinking of the future. Their world is turned upside down yet again. Black Clover is really good at plot twists. A second-level supreme devil shows up and warns everyone that this is not over. Suddenly a dark manifestation starts to appear which sends shockwaves throughout the kingdom. A half manifested Lucifero with just a single finger force, everyone, to collapse to the ground.
Asta was shocked when he saw a Supreme Devil with four horns. When the Supreme Devil stares at Asta, he recognizes the young man who came close to destroying Lucifero before he manifested. He refers to Asta as the brat who stopped him from fully manifesting. Asta is in big shock, scared and dripping sweat.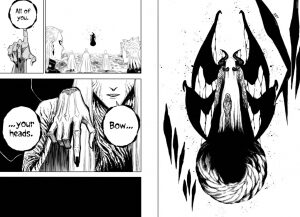 Will Asta Die in?
With Lucifero this strong at half his power and pasta already out of his devil union mode and completely tired. This will be a tough challenge for him. will Asta die in this battle or win what is to come next. But as things are, Asta is in no shape to stand a chance against Lucifero.
If we have to speculate based on everything we know about Asta, devils, and story so far.
So far no major or even minor characters have died. It's safe to assume that Asta will not be dying. But with so many plot twists we have seen anything is possible.
If you all remember correctly, in the Black clover chapter 215 we saw that Julias gives three predictions of what is going to happen in the future. Two of them were related to the Clover Kingdom. he Said that Asta is going to die. Looking back on this prediction and what is about to happen in upcoming Chapters. It may indicate the death of Asta. Well,   all we can do is wait and see what will happen next.
Release Date:
Black Clover Chapter 318 is coming out on 3rd January 2023. Yes, the Chapter has been Delayed and fans will have to wait to see the fate of Asta and the human world now that Lucifero is half manifested.
Where to Read:
Here are the official links from where you can read Black Clover Chapter 318:
(Please use official sites for watching anime or reading manga, as it shows your support towards your favorite animes).
Black Clover Chapter 318 Spoilers:
Usually, the Raw Scans and spoilers come prior to 2-3 days before the release. All we can do now is speculate based on the previous chapter. As soon as any spoilers surface we will bring that for you. So, keep this article bookmarked to save yourself some time.
Our heroes managed to save the main priority of the mission, Yami and Vengeance. But now, the strongest antagonist of the series is now front of them.
Recap:
The supreme devil monster is destroyed but large chunks of this monster are about to hit the ground and kill several spade citizens. But Yuno arrives and destroys it with his Spirit of Euros, With Mimosa healing him from behind. 
Patry catches William and Yami is reunited with his squad Black Bulls. Everyone is happy that the war is over but suddenly a large amount of dark mana can be seen. Out of which a half manifested Lucifero appears and straight away moves towards Asta. The Black Clover Manga end on this note.