Hello, everyone, In this article I will talk about Boruto Episode 73, The 'Big Orochimaru Clash' Boruto's Mitsuki arc began a week ago and is collecting anime fan hype ever since. I guess I speak for everyone when I say this is potentially one of the best story lines in Boruto yet. Though they could have added in some more action to spice it up. Well, You read the title of this article and so you are well aware there are spoilers ahead. Subscribe to our Reddit community for more Updates.
Towards the end of the last episode, we saw both Boruto Uzumaki and Sarada Uchiha leave the village in search of Mitsuki. Boruto doesn't want to abandon Mitsuki at a time like this, and the storyline is taking a turn for excitement now.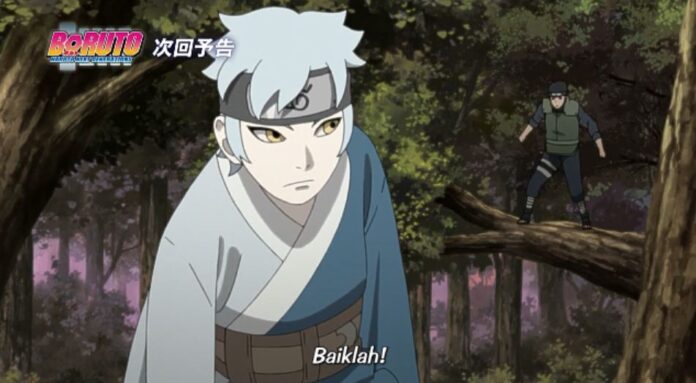 Episode 73 of the series is titled, "The Other Side of the Moon,". There have been various synopsis of the episode we are here to get you the latest and the most simplified version of it. Boruto intrudes on to Orochimaru's research laboratory. With some help from Sarada, Boruto successfully sneaks into Orochimaru's research laboratory. Surprise Surprise! He finds Orochimaru there.
The part the thing that has been in hype for a while now is that Boruto witnesses something shocking. Konohamaru resents Orochimaru, who was his grandfather's enemy. 'Mitsuki' the son of his enemy is also his trusted subordinate. When he tries to go in search of Mitsuki, he is axed from doing the mission.
After finding Mitsuki's snake in the last episode, and learning that apparently, it was his "will" to leave, things are only going to get more complicated partly when Boruto and Sarada meet Orochimaru. True, this is necessary for the plot to shape up but Boruto has gained a reputation of giving some tedious turns.
Realizing that they don't really know much about the real Mitsuki, they might just find Orochimaru working on another Mitsuki clone. We are already aware of Mitsuki's clone status from the episode diving into his origins, but this will probably be a new thing for Boruto and Sarada.
Kabuto is not shown to go in the past, but it a brief glimpse that we caught of the place and that was it. This week, we can anticipate a good view of the Ryuchi Cave, so Fans are expecting some big turns and twists in the episode.
Towards the end, Team 10 will be assigned by Konohagakure to search for Boruto Uzumaki, and Sarada Uchiha and bring them back to the village.