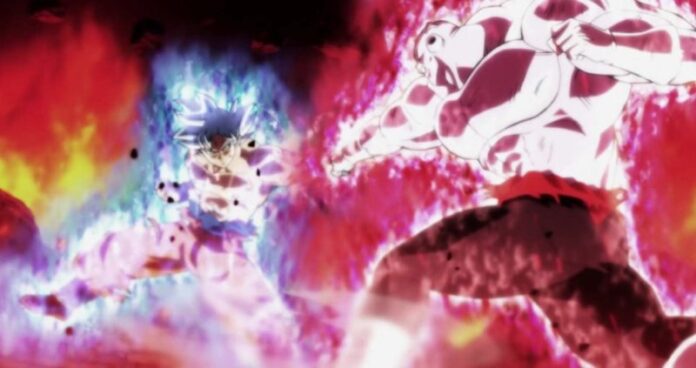 Howdy, Everyone, Yesterday information about 130 was released and today we have got New Spoilers for Dragon Ball Super Episode 130 English Sub which will release on March 18th. March 11 will be a holiday due to a marathon, therefore, there will be no episode on that day.
The last Episode of DBS which is 131 will release on 25th March.
Dragon Ball Super Episode 130, "The Greatest Showdown of all Time! Ultimate Survival Battle!!" March 18th
1 minute and 30 seconds are remaining in the tournament of power. On the stage, the fierce battle between Goku of universe 7 and Jiren of universe 11 is taking place. Against Jiren's power-up, Goku activated "Ultra instinct" once more and perfected it. Who will come out on top in this greatest showdown?!
Episode 131 Title: A Miraculous Conclusion! Farewell Goku! Until we meet Again!!
Release Date: March 25
Goku got Stronger than Beerus!! Proof:
Herms98 – Meanwhile, according to below image's translation even Beerus says Ultra Instinct Goku might be stronger than him (possibly a line from the next episode?), and that there might be more crazy developments in store.
This new form of Goku in Ep 130 with Silverish hair is just called 'Ultra Instinct', the earlier form with Dark Blue Aura (Shown in Episode 109, 116) is called Ultra Instinct Omen or the Symptoms of Ultra Instinct.
That's all for today, make sure you all subscribe to our blog's notifications.