Howdy,  everyone, This weekend, December 16th-17th, Toei Animation is rumored to make a MASSIVE announcement at Jump Festa 2018.
Jump Festa is one of the biggest entertainment conventions in Japan with major anime and manga announcements. Special thanks to John from Anime Live Reactions Youtube for the thumbnail and information!
There is a high chance they will announce a new Dragon Ball Super 2018 movie, and perhaps show a teaser or trailer for the DBS 2018 movie that is rumored. They may also announce the next arc of Dragon Ball Super 2018. Is it an Uub Saga? End of Dragon Ball Z time skip? or Planet Sadala Arc with Vegeta? Anyway,  let's get started with the news of New character and Episode 121 Leaked Image.
A few days ago Toei Animation teased us about "a new character coming to Dragon Ball Super". Today we received high resolution scans that confirm the identity to be Aniraza, the 4-way fusion between the robots of Universe 3!
Aniraza Universe 3 fusion will happen in Dragon Ball Super Episode 121. The community was hoping for Ultra Instinct Vegeta, Uub, or a new God but instead, we all got trolled by Toei! This was even confirmed by KenXyro:
Dragon Ball Super Episode 121 image has been leaked! It shows Goku, Vegeta, Gohan, Frieza, and Android 17 getting ready to battle, but where is Android 18? Has Android 18 been eliminated by Aniraaza Robot fusion from Universe 3 or someone else? Who will get eliminated next from Universe 7? DBS Episode 121 is going to be the last episode of Dragon Ball Super 2017! And probably 18 will fall.
Watch this video below to learn more about the new character:
Spoilers and Leaked image of 120:
Episode 120 "Perfect survival strategy! Deadly assassins of Universe 3!!" December 16th, 2017 (Leaked image of 120 below)
Though because of Jiren, of Universe 11 is the toughest opponent, Universe 3's survival strategy of having the most warriors remain, and is successful. At last, it's time for Universe 3 to make their move. Koitsukai and his teammates from Universe 3 begins their attack on Son Goku.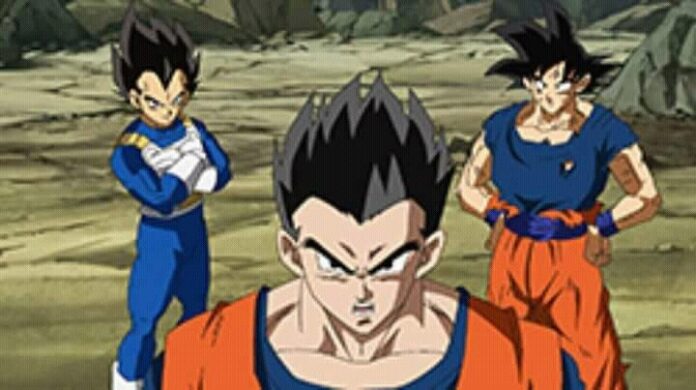 Episode 121 "All-out war! Ultimate 4-way union vs the entire Universe 7!!" December 23, 2017
Paparoni announces, "let me show you! The finest secret technique of Universe 3!? And then an intense flash of light appears in the area. Goku, Gohan and Vegeta uses their arms to block the intense light while Android 17 and 18 take cover. When they can see properly again, they see a huge shape of Amiraaza appear.
Universe 3 warriors merge and go up against Goku and his teammates as the fight for survival begins between the two universes and reaches it's climax. But, it looks like universe 3 was still hiding something. We don't know how Amiraaza will appear!
There will be No episode on December 30th, 2017. 
Episode 122 – "Risking his pride! Vegeta's challenge to the strongest."     
January 6th, 2018.
The summary of this Episode is not available yet, but two things about it are confirmed, that are: It will be a fully Vegeta centered Episode!
The animation quality of this episode will be amazing as the production's animator and writer who is making this episode is the one who made Episode 110.
Episode 123 – "Unleash Entire Power Of Mind And Body!" (Provisional Title)
As you see in title of the Episode 123- "Unleash Entire Power Of Mind And Body" this literally mean that some one is going to get perfected Ultra Instinct but as we all know that Defensive Ultra Instinct use Entire Power Of Mind but not the Body because when Goku was using Ultra Instinct his punches were weak.
Provisional title and the actual title are almost identical, and the story of the episode remains same as said by the title!
So, what are your thoughts about this. Let me know your suggestions and opinions in the comment section.