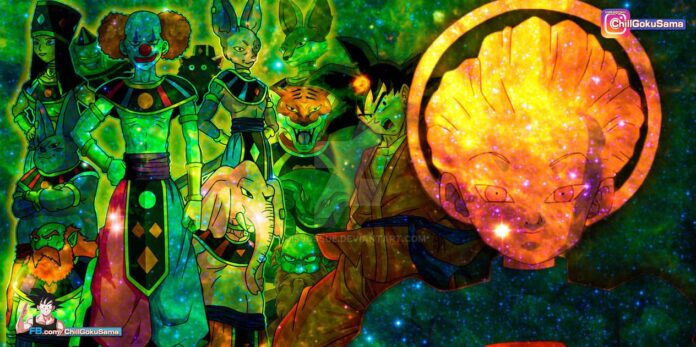 Gods of Destruction of all Universes
The names of most of Gods of Destruction of all universes in Dragon Ball Super gods are based on some sort of drinks based on alcohol haha. Starting with Universe 1 their god is named Eiven he is this really short pink skinned guy and looks really badass to say. Now Eiven was designed by Toyotaro, refreshing to see Toriyama letting Toyotaro have such an important piece set for the DBS series. These Universes will not participate in the tournament due to high Mortal level:
Next, we have Universe 2 Heles, this is something I have been wanting for a long time a female god of destruction. she is all about beauty and doesn't like anything ugly. She was designed by Toriyama and Toyotara together. Next, we come to Universe 3 this is a huge robot and his name in Moscow, I don't know much about him but I remember a guy from DB GT his name was Rudd and he is quite similar to him. And he communicates to everyone through electrical signals, therefore, can't talk in any known language.
Universe 4 is a Rat and is named Ketira, the design is impeccable and not much is known about him yet but his power is one of the strongest.
Now lets come to universe 5 his name is Arak, and he is the god one of the 4 strongest universes. one of the weirdest god.
Universe 6 as everyone knows has Champa as their God we have known a lot about him by now, he is the brother of Beerus and apparently a greedy guy who wishes to out bout Beerus.
Now ta-da, we have Beerus the god of destruction for universe 7 the most known god to us, wouldn't take it to any depth here.
Universe 8 God is Liqueur the Fox now he is one of my favorite design and seems very powerful when it comes to universe power levels.
Next is universe 9 Sidra from what we have seen yet he is a very passive god and most probably the first of god to get killed by the Omni king LOL.
Universe 10 is the place where the elephant god Ramon resides and this may be taken from some mythologies! He seems very angry almost every time.
The fan social god of universe 11 his name is vermouth the clown god of destruction. though we predicted he would be really destructive, he is a nit, he almost behaves like Beerus while talking to his universe fighters.
Universe 12 has the god of destruction Gin a Mermaid God is the strongest of all god of destruction and has great expectations from his universe.
For more info on Gods of destruction in dragon ball super go here: