Another week and another fantastic episode of Jujutsu Kaisen. Episode 19 of Jujutsu Kaisen brings the awaited battle between Fushiguro and Noritosho Kamo. But their fight is interrupted by something, what was the reason? We will give you a recap in this post. If you haven't watched the episode yet, there are going to be spoilers ahead. So without any delay let's dive into the battle arena of the Kyoto Sister School Exchange Event.
Read My Hero Academia Vigilantes Chapter 96 Release Date Confirmed, No Delay!!
Jujutsu Kaisen: Episode 19, Release Date
Jujutsu Kaisen Episode 19 "Black Flash" will air on 19th February 2023. Note that the new episode airs on Friday, every week. If there's any delay, we will update this post, so that you won't miss out on any episode. The preview gives fans a glimpse of Maki and Fushiguro fighting alongside Inumaki and in the final scene before revealing the episode name, looks like Itadori is about to land a powerful blow on his opponent. Judging by the reaction of Toudo it looks like we are getting another amazing episode with fantastic fight scenes.
Where to Watch Episode 19 and Read Manga:
Currently, Jujutsu Kaisen is available on Crunchyroll and VRV.
Official website Links for manga: VIZ.com  &  Manga Plus
(We recommend you to watch and read Anime and Manga only from official sites. As it provides accurate and better translations and subs.)
Episode 18 Recap:
Jujutsu Kaisen Episode 18 picks up from the battle between Fushiguro and Noritoshi. Fushiguro is trying to evade cursed energy laced arrows. He also reveals that the arrows can ignore physics because of Kamo's blood manipulation technique. Fushiguro uses Shikigami to outrun the arrows. Kamo creates a diversion with his last arrow and surprises with his brute strength and speed.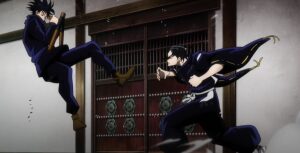 Cut to the Opening music, then we see Miwa standing and wondering what to do now, as she is nothing without the sword. Inumaki calls from Mechamaru's phone and uses his curse speech technique to put Miwa to sleep. Cut to a flashback we see principal Gakuganji revealing that they have a semi-first-grade spirit. And that it will be released and used to kill Itadori. The cursed spirit is also trained and will only come when the flute is used.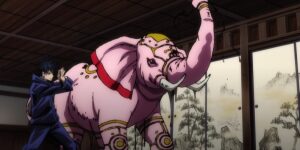 As Inumaki is about to move out, he senses something powerful, a Cursed spirit – Hanami. Hanami kills the special semi first-grade spirit. Meanwhile, Mahito and Juzo arrive and get in action to carry their plan.
Back where Noritoshi and Fushiguro are fighting, Noritoshi states that both of them are not that different. Devoting their lives for the big sorcerer families. But Fushiguro says they are not the same and he has nothing to do with the Zenin family. Megumi distracts Noritoshi and summons max elephant, his news shikigami, and floods him into the open space. Without any delay, he summons Nue and strikes with electricity. But a sudden mass of branches interrupts their battle.
Invasion:
All the cursed energy in the area is gone, and the talisman keeping track turns red. Juzo uses a cursed object to summon a specialized curtain. But Satoru is not able to enter the curtain while others can. principal Gakuganji takes out his guitar and faces Juzo.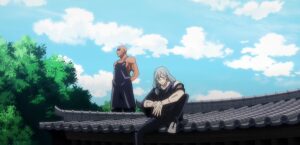 As Hinami comes face to face in front of Noritoshi, Fushiguro, and Togi. Megumi recognizes him from the drawings of Satoru. Togi uses cursed speech energy to stop Hinami, who uses telepathy to communicate that his only wish is to protect the planet. Ask all of them to die and become sages. Thanks for reading Jujutsu Kaisen Episode 19 reveals Battle Event Interrupted, Release Date, Spoilers.
Also Read: Goblin Slayer Season 2 Announced with First Poster, Release Date, Movie