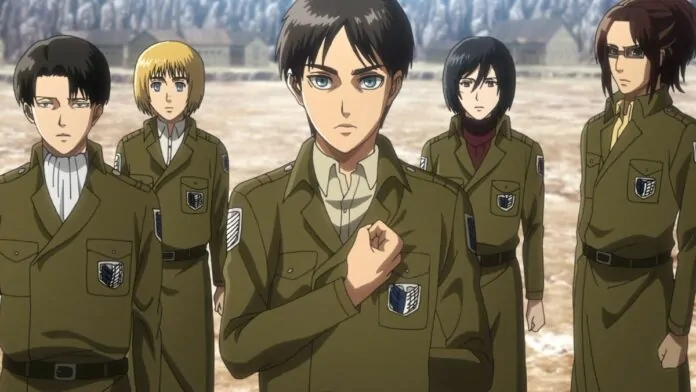 Attack On Titan Final Part Opening Song Revealed. Our favorite anime is coming back this weekend with a lot of new exciting details.
Fans are nostalgic at the fact that the anime is finally ending. The manga has already brought a lot of tears to the readers, and the final arc will do the same as well. However, we are here to tell you all about the details. From the release date to the cast and the trailer- we have everything for you.
#aot Sundays in 1 week 🤌 pic.twitter.com/ehgJL7hW3q

— H.B //WinterHateAcc (@90minutelife) January 2, 2023
According to the rumor, the band SiM will be performing the opening theme. The single will be titled "The Rumbling" so fans who read the manga have an idea of what's coming up. After all, the Rumbling has roots in the manga's final arc, and it is a wild thing to see firsthand. This means Attack on Titan season four will bring it to life soon, and anime-only fans are going to be left equal parts stunned and scared.
Attack On Titan Final Part Opening Song Revealed
Attack On Titan Final Part Opening Song Revealed with the song and band name. An avid anime fan took to Twitter to share the wonderful news with other AOT fans.
The band "SiM" will be performing the opening theme song of Attack on Titan The Final Season Part 02.

Opening Title: The Rumbling.

— SPY (@_Dominating) January 4, 2023
SiM stands for Silence is Mine, and it's a Japanese alternative metal band. There is also some news regarding the same band singing the theme of Chainsaw Manga. So, fans are expecting good things only.
We do not have any news on the officially released version of the song as of yet. The group did an opening theme for Shingeki no Bahamut and even returned to do another song in 2017. They have even written a couple of songs for different PlayStation games.
The web has already blown up with the news. Let's hope we get a banger this weekend. The band is known for performing quite well. The Attack On Titan Season 4 Part 2 release date has been officially confirmed to be scheduled for January 9, 2023 (effectively January 10 at 12:05 AM JST).
FREEDOM#erenyeager #aot #shingeki #attackontitanfinalseason #eren pic.twitter.com/Z55TbuxZFP

— 𝕻𝖗𝖚𝖘𝖘𝖎𝖆 (@pruu_art) January 1, 2023
Attack On Titan Final Part Opening Song Revealed. It is only a matter of a few days before we get to see how the opening turns out to be. We can only say good things about it right now. Follow us for more anime and manga-related content. You might want to read: Most Awaited Anime for January in 2023.