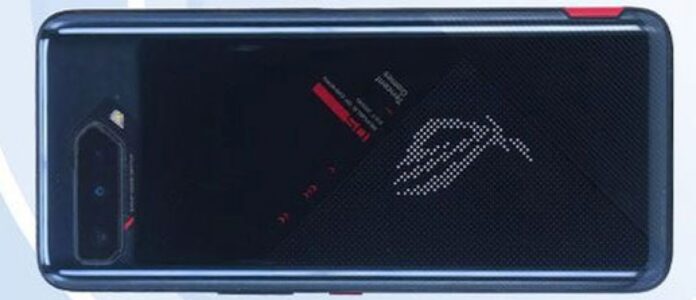 Asus ROG Phone 5 once again shaking the social media headlines. After the device appeared in one of China's certification agencies. This device got leaked along with the design. According to the device's appearance, having a secondary display on the backside this time.
Certification listing suggests some interesting addition to the phone design.
More evidence to that, Asus ROG Phone 5 now appears on the official website. The device spotted recently on the site when it listed for certification. This listing provides a first look at the unannounced game smartphone, the successor to ROG Phone 4.
Asus ROG Phone 5 appears with a photo show, how its rear side gonna look. While the front side will be similar to its predecessor. Though there are a few details that make this unique in its own style.
Fans of the Asus ROG smartphone find an interesting detail, that a number "05" backside of the device. But, this is not the first time Asus to skip the number in the next ROG mobile device. They skipped number four, as they believe that would bring bad luck for Taiwan.
Here are the images from the tweet, Check yourself
In the earlier leak, it is not shown about the Tencent Game inclusion. But,  in the new leak, it is shown. Still, it is unclear, while TechRadar suggested that TENNA certified might be a special edition made with help of Tencent.
If such a model exists, then it will be exclusive for China since Tencent is banned in India. We can't do anything if they collaborated to bring pre-installed popular games.
What to Expect in Asus Phone 5
As it will be powered with the latest Qualcomm Snapdragon 888 Processor. Asus ROG Phone 5 will support 5G connectivity which is common now in upcoming flagships. But, this will add some weight to specifications.
There are no reports or information about the release date of this device. But, we can expect this device in July as they followed the same strategy for previous years also.
Specifications
Chipset: Qualcomm Snapdragon 888
Display: 6.7 inches
Storage: 128GB
Camera: Triple rear camera setup
Battery: 6000mAh
RAM: 12GB and 16GB
We can expect QHD+ this same, as they are releasing FHD+ every time with AMOLED Screen. But we are not sure, what will be the refresh rate as 144Hz is common from ROG Phone 4. We can expect a higher refresh rate and fast charging speed, possibly 65W charging. This time they are planning to enter will a good camera setup. Till now they are focused on performance but, from now things will differ.
All the above-mentioned spec might not be accurate, even we might hear changes in specs. But, you can expect the best of the best compared to Asus ROG Phone 4.
Thanks for reading, also read OnePlus 9 and 9 Pro Launch Date