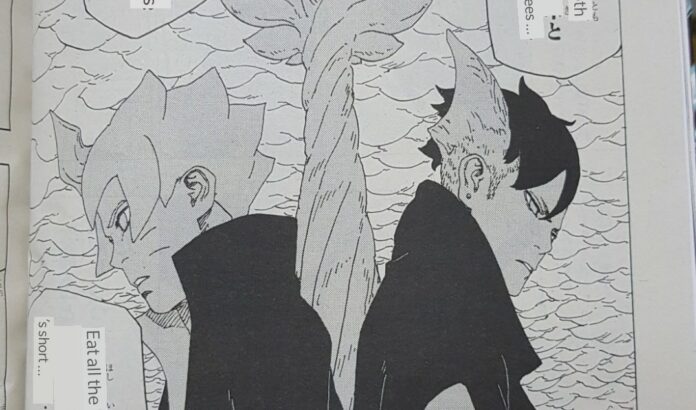 This is an exclusive Boruto Chapter 39 Mega Thread. Here are the spoilers, live release countdown, where to watch Boruto Chapter 39 officially. Catch us on our Boruto Discord for discussion.
Boruto Chapter 39 will reveal many new things about Boruto and Kawaki.
Boruto Chapter 39 Live EXACT Countdown for Everyone
Please believe in our Heroes Naruto, Sasuke, and Boruto, Kawaki! Comment your thoughts down below. RELEASED! CHECK OFFICIAL LINKS BELOW:
This post contains major spoilers, be careful. Spoiler Warning!
Kawaki is really serious this time!! Chapter 39 will end in suspense.
Chapter Official Link Online Status
WEBSITES
STATUS
 <<(RELEASED CHECK)
 <<(RELEASED CHECK)
 <<(RELEASED CHECK)
(*Download the Shonen Jump app and search for Boruto in it. There might be 5 mins delay on viz and manga plus)
Next Boruto Chapter 40
Boruto Chapter 40 release date is on 20/21 November depending on your timezone.
Boruto Chapter 39 BIG SPOILERS
Boruto Chapter 39 is titled: "The Proof"
Real Colored Cover Page, Edited by Omnitos.
New Boruto Chapter 39 Leaks and Spoilers till now:
Great action scenes of Boruto and Kawaki coming up!
Boruto CH 39 SPOILER IMAGES‼️
– It seems like shikamaru is getting serious about something!
– Boruto and Kawaki will become powerful Ōtsutsuki's!
– Another portal opens in the Uzumaki house, mitsuki protects.
– BORO IS ON the move#BorutoMangaSpoilers#Borutospoilersmanga pic.twitter.com/sFcM5tehuz

— Abdul Zoldyck (アブドゥル) (@Abdul_S17) October 19, 2019
BORUTO MANGA SPOILERS‼️
– kawaki and Boruto's karma seal open up a portal, the same portal we saw in ch 38‼️
– Shikamaru STOPS SOMEONE ENTERING THE PORTAL?
– KAWAKI DECIDES GO TO THE DIMENSION WHERE NARUTO IS‼️‼️#Borutomangaspoilers#borutospoilersmanga pic.twitter.com/3nClfrYpkN

— Abdul Zoldyck (アブドゥル) (@Abdul_S17) October 19, 2019
It seems like Boruto fights to protect the flower vase KAWAKI RE-MADE FOR HIMAWARI, it has sentimental values‼️

FLASHBACK OF NARUTO?? WHYYYYY? #borutospoilersmanga #Borutomangaspoilers pic.twitter.com/hG0TPrynP0

— Abdul Zoldyck (アブドゥル) (@Abdul_S17) October 19, 2019
STAY TUNED WE WILL UPDATE THIS ARTICLE THREAD AS SOON AS NEW INFORMATION RELEASES!
Most importantly 'Believe' in Naruto, Sasuke, and Boruto!!! Naruto is not dead!
The next chapter 40 releases next month on 20th November. Comment down your opinion below.