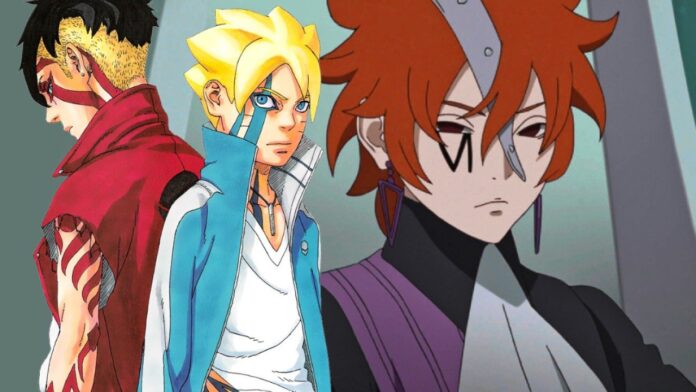 Boruto Chapter 62 will feature Kawaki vs Code as per the leaks. The official release date for Boruto Chapter 62 is September 20, 2023.
Boruto's ongoing final war with Code is about to peak as the battle starts. The last chapter left us in doubt as Kawaki left the village suppressing his chakra to confront Code directly.
Boruto Chapter 62 Release Time
The official release date for Boruto Chapter 62 is September 20, 2023, and the release time for every country is 11:59:59 PM JST (Japan Standard Time). For UTC it will be 3:00 PM. As of now, there will be no delay as per the information provided by the official creators of the manga.
Where can you read Boruto Manga?
You can read Boruto manga online on legal manga reading websites that support the creators like VIZ Media and Mangaplus. The websites provide the latest manga chapters and you can read the last three latest chapters for free. We highly condemn the use of illegal manga reading and anime streaming websites.
OFFICIAL WEBSITE LINKS
(*Download the Shonen Jump app or Manga Plus app from the play store or app store and search for BORUTO Chapter 60 so that you can watch it)
Everything here is for informational purposes therefore it is fair use. The focus is not on the manga content but to deliver the latest news.
Boruto Chapter 62 Spoilers, Leaks, Raw Scans
Boruto Chapter 62 Spoilers Status: Chapter 62 Spoilers, Title, Raw Scans, summary released!
This post contains major spoilers, stop reading if you do not want to get spoiled about the upcoming chapter.
Chapter 62 Title: "A chance Encounter"
The cover of the chapter features Code using his transformed hands through his transformed grid. The text below it says: Hide and Seek
The Chapter mostly focuses on Code vs Kawaki, while a small quarell is hsown between Amado and Shikamaru and a few scenes of Boruto, Naruto, Shadow clone and House observer dude are shown
Code is simply toying with Kawaki and is not serious at all and starts overwhelming Kawaki but suddenly Boruto appears and saves Kawaki from Code's hands
Ada also tells Code to stop beating Kawaki as his face is really getting messed up
While Daemon is sleepy and says a few things.
Recap of Boruto Chapter 61
In the last chapter Sasuke gets some clue about Code and leaves. Kawaki shows that how he can supress his Otsutsuki Chakra and stay hidden. And is heading to talk to Code himself.
Boruto Manga Chapter 61 has covered Kawaki betraying Naruto by leaving the village with his Otsutsuki powers of repressing his Chakra signal. Boruto has followed his brother Kawaki outside the village to face Code.
Sasuke found out more information about code but has a hunch about how he will proceed. We believe Kashin Koji will appear in Boruto Chapter 63 to meet Kawaki with Code and save his life, to then bring him back to Konoha to meet Naruto maybe.
Ultimately, Kawaki wasn't going to leave Konoha, he was just going to meet Code and ask him to kill him instead of attacking Konoha, and went himsself to settle things probably.
Speculations for future Boruto Manga Chapters
These speculations might happen in the upcoming Boruto Chapter 62, 63, 64, 65 and would be really interesting to see:
Where did Kashin Koji (Jiraiya's Clone) go after he was almost defeated by Isshiki? That is a big mystery but he might have a major role in upcoming chapters.
Is Amado the real villain?
Will Code be able to remove the limiters to his strength?
Will Code keep Kawaki as Hostage.
Will Daemon fight Code is anything hurts Ada.
How Amado is able to create so string cyborgs?
About Boruto Naruto Next Generation
Boruto: Naruto Next Generations is a sequel to Masashi Kishimoto's Naruto: Shippuden series. The manga was originally written by Ukyo Kodachi but it was passed to Masashi Kishimoto after some chapters.
Boruto was serialized in May 2016 by Shueisha and become part of the Weekly Shonen Jump magazine. As of writing, the manga series has already garnered 13 volumes since its serialization. The series already got its own anime adaptation which started airing in April 2017. But before the start of the anime, a Boruto movie has been released in 2015.
Boruto Chapter 62 will release on September 20, 2023. Stay tuned on Omnitos for the latest manga and anime updates. If you want to read it in English in the United States you may go to the Viz website and it is also available in Spanish on Mangaplus.