The Dance genre has very few animes that are popular. As a matter of fact, there is only a handful of dance anime that has been produced. Welcome to the Ballroom and Princess Tutu are currently the face of Dance Animes with its beautiful stories and characters. Hula Fulla Dance shows promising results and will probably make the Dance genre popular.
Hulla Fulla Dance Release Date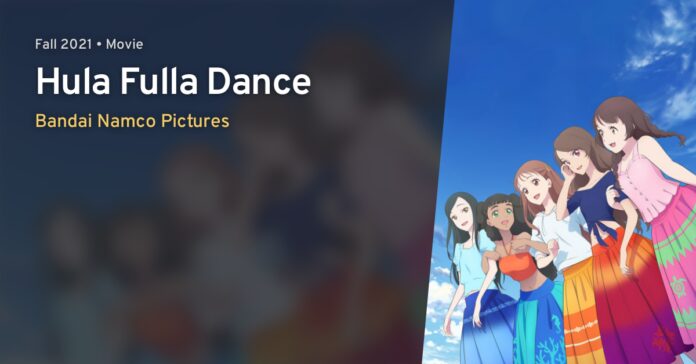 On November 4th, 2020, An announcement from Aniplex stated the following. Aniplex is producing its own original film " Hula Fulla Dance ". The Anime Film is set to release in the summer of 2023. So far no official statement has been released regarding the date of release. The anime is set in the Fukushima Prefecture which ads to Bakuten!! being set in the Miyagi prefecture and Misaki no Mayoiga being set in the Iwate prefecture.
This is an initiative taken in order to promote all the three prefectures as a remembrance of the 2011 Tōhoku earthquake and tsunami which took place almost 10 years ago.
What is Hula Fulla Dance About?
The story revolves around Hiwa Natsunagi who joins the Spa Resort Hawaiians hotel in Fukushima as a new Hula dancer. Hula Fulla Dance shows Hiwa's learning process and her relationship with her colleagues. The movie is based on a real-life hotel set up known as The Spa Resort Hawaiians Hotel. 
The staff of Hula Fulla Dance Anime Movie
The general manager is
Seiji Mizushima
(Fullmetal Alchemist), Directed by
Shinya Watada
(Gundam Build Divers), Screenplay by 
Reiko Yoshida
(Violet Evergarden), Character Design by 
Hiroko Yaguchi
(Aikatsu!), Art director is 
Kaori Hino(
Princess Hirune The Story of I Don't Know), Color design by 
Masazumi Otsuka
(Aikatsu!), Cinematographer is
Yoichi Ogami(
COWBOY BEBOP Heavenly Door), Editing by 
Kumiko Sakamoto
(Aikatsu Friends!,Osomatsu-san), Sound director is 
Eriko Kimura
(Penguin Highway), Music by 
Michiru Oshima(
Fullmetal Alchemist), Production by
BN Pictures(
Gintama) and the distribution is done by Aniplex.
Hula Fulla Dance Anime Movie New Promotional Video: