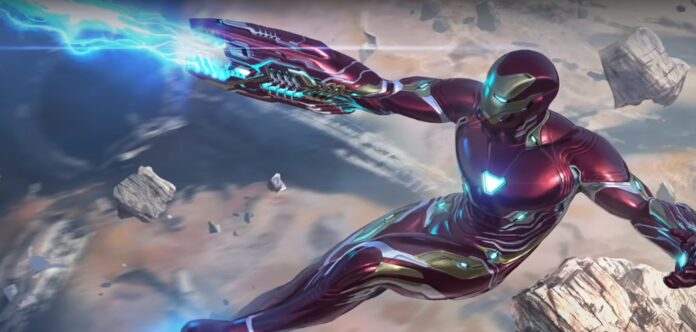 Hello, everyone. We have some brand-new Avengers Endgame 'Toy Leaks' specifically about Ironman and a brand new weapon as I've mentioned in a few plot leak articles in the past the closer we get to Marvel Avengers Endgame release date, the more marketing is going to kick in and the more leaks we're going to get as well. As reported by Cosmic Wonder Youtube.
Today, it is about Ironman with a new weapon in a toy Leak and as you can see this figure is wearing what everybody is calling his advanced tech suit and as you can also see this Iron Man figure comes with a huge weapon and if you look on the back of the box you can also see Iron Man wielding this weapon.
This looks like a proton cannon, it doesn't look exactly like the one that he has in Marvel vs. Capcom but it is a very huge weapon and we've also gotten some other leaks with war machine wielding a massive cannon-like weapon as well, so we're getting more evidence that the proton cannon or some sort of variation of it could end up in Avengers endgame.
I say some sort of variation because the Russo brothers aren't too fond of just taking something from the comics or a video game and just putting it in the movie as it is. Just 2 months are left for the Engame.
2 Months until #AvengersEndgame. See the film in theaters April 26. pic.twitter.com/iLVNeCrk0w

— Marvel Studios (@MarvelStudios) February 26, 2019
Russo's have stated that they do draw inspiration from the comics and the animated series and other sources, but they don't just take it for what it is. They add their own little tweak to it and the one that we saw in the war machine toy leaks does look a little more true to the one that we've seen in Marvel vs. Capcom but this one for Ironman looks a little bit different. It looks like it's actually firing a missile.
I've heard some people say that it looks like a harpoon gun perhaps targeting the Infinity Gauntlet for the next time he goes against Thanos to try and take it from him that does seem a little too easy, however, Ironman probably knows that that won't work going against the mad Titan, so this is probably a weapon designed for a very specific purpose based on how it looks.
Let's also remember what the Russo brothers have said recently about toy leaks, they said that most the time the toy leaks aren't 99% accurate, they didn't say they weren't real.
They said they're not accurate, so this weapon could actually be a lot bigger but one thing that this does show us is that Ironman is going to be preparing for another fight with Thanos by upgrading his armor and his weapons and of course he is going to be the one to design these advanced tech suits as well probably with the help of banner and possibly Scott Lang but we know he's going to be the one to design them and they're most likely nanotech.
We know that Ironman is going to get some sort of weapon upgrade in Avengers Endgame and these toy leaks are just further evidence of that but let me know what do you think about this weapon in this toy leak. Let me know what you think it does, do you think it's some variation of the proton cannon or do you think it's a weapon that fires missiles, let me know your thoughts in the comments down below.