We will talk about Sisyphus the Myth Episode 15 Release Date and Spoilers. It has been a minute since we talked about Sisyphus the myth k-drama. I don't know about you but the ratings said a lot of k-drama fans are loving the concept and story so far. We have already talked about the prediction for Sisyphus episode 13.
Sisyphus episode 13 and 14 recently aired on 31st March 2023 and 1st April 2023 respectively. Let us see what does Sisyphus the myth episode 15 has in store for us.
The release date of Sisyphus the myth episode 15
Sisyphus the myth episode 15 will be released on 7th April 2023.
Where can I watch Sisyphus the myth episode 15?
You can watch Sisyphus the myth episode 15 on Netflix or tvN.
Highlights of Sisyphus the myth episode 13
I am just surprised or you may say jealous of how fast and smart Han Tae Sul's brain works. They were cornered by Sigma and control Bureau in the elementary school and Seo Heo was ready to fight and shoot them all, but she observed something strange, they were not attacking first which means they are waiting for them to come out and they figured out that is what happened last time. Han Tae Sul applies Steven Hawkings's theory of time travel and invites someone for help from the future. It worked! Bong Seon saved them.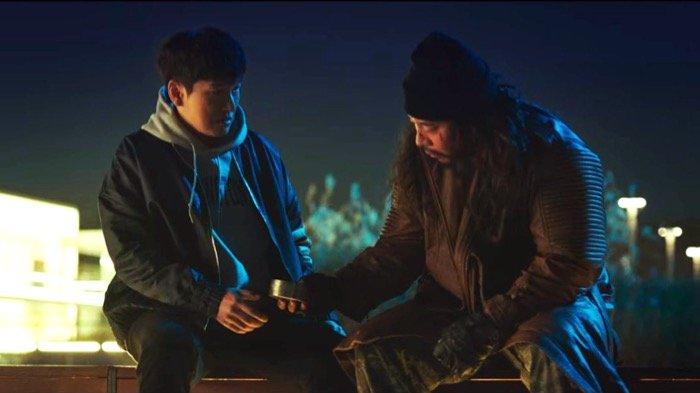 We saw more of the future struggles of Seo Heo where Bong Seon helped them to get to the uploader and she saw so many people living on the tracks of the underground trains and their miseries and a huge pile of skulls and skeletons. They reach the uploader after a thrilling gunfight. Soo Heo also met Sigma at a pool party where people were enjoying while others are dying of hunger and thirst.
Highlights of Sisyphus the myth episode 14
Sigma recollects the real reason why he wants to harm Han Tae Sul because back then when he was an artist named Gil Bok and was sent to jail multiple times because of Tae Sul and was about to commit suicide but then Tae Sul gave him hope by buying his painting. The same day Seo Heo and Tae Sul went to kill Sigma (present) but then he gets a call from Sigma (future) and he threatens him that if he killed him he will kill his brother and Seo Heo. Han Tae Sul saves him from Seo Heo but then Mr. Park comes in with a parcel for Seo Heo which contained her father's hand with their polaroid.
Seo Heo disappears with her father's remains. Tae Sul opens the last report given by Bong Seon and touched the powder that shows him what's going to happen in the future. He reached to the bunker where Seo Heo was hiding and when asked he told her that he found out because he built it for her and her family to be safe even in a nuclear war and with supplies of medicine and food for 100 years.
He learned how to use a gun and locks her in the bunker so that the control bureau cannot reach her and he can do things as per his plan. He went to Mr. Park to buy a gun from him in return for antibiotics enough for 50 years.
Sigma abducts Sun and tells him to escape Korea with Seo Heo otherwise he will kill his mother and sister. Eddie Kim is lured to build the uploader machine and sigma will get the code for him.
Han Tae Sul tracks Sigma in his Quantum and Time company headquarters and is searching for him.
Predictions of Sisyphus the myth episode 15
Seo Heo uses Sun to escape the bunker and when asked she said she is most scared of surviving alone. Sul tells Sigma that he will win this time because he saw it in the future. We also Sigma standing in front of an uploader lookalike machine. Did Han Tae Sul build the uploader? We'll see. Thanks for reading Sisyphus the Myth Episode 15 Release Date and Spoilers.