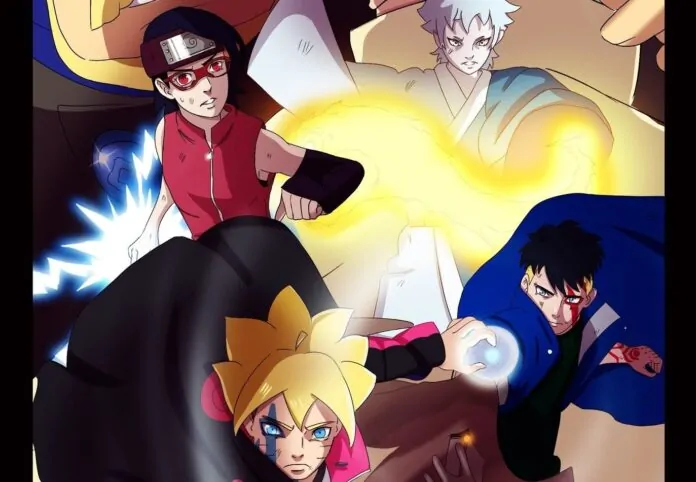 Boruto Chapter 43 Spoilers, Release Date, Leaks Thread for English Scans official links for Boruto manga, Live time left Countdown, Speculation, and chapter Discussion. Boruto Chapter 43 release date is on 20 February 2020. Discuss it in the comments section below this article or for questions, catch us on Discord or Twitter handle. Images by Rin.
Finally, we were able to witness Chidori by Uchiha Sarada, which damaged the core of Boro's regeneration abilities. Now it would be interesting to see how careful Boro will be in handling new Team 7 after his regeneration abilities have ended. Boro might have some sort of other abilities too, so we have to wait. We hope Team 7 would be able to retrieve Naruto. Sarada and Mitsuki are really smart.
What is the Release Date of the Boruto Chapter 43?
The Boruto Chapter 43 will release on 20 February 2020. The release time is according to this live countdown below for every country out there.
How much time left for the latest Boruto Chapter to be LIVE?
Live Countdown to the next chapter (Time left for the Chapter for every country):
(Visit below after Countdown ends), We do not provide unofficial links.
Where to Read/Watch Boruto Chapter 43 Officially?
WEBSITE LINKS
(*Download the Shonen Jump app or Manga Plus app from play store or app store and search for Boruto so that you can watch it)
Chapter raw leaks and some story translations
Kashin Koji: Yeah… I will defeat him (referring to Jigen)
Last page: "They managed to rescue Naruto, but something happens to Boruto's karma!?
"There's still room for growth. Young boy with blue eyes. There's still another level that you can access. You can have everything."
Conversation between Amado and KK

Koji : Where are Boro and Code ?
Amado : They're out. Boro is watching over the Hokage. Code is at the ten tails.
Koji : Good
Amado : Are you doing this now

(implying that he was already aware of KK's intentions) pic.twitter.com/0NDN64Kf79

— Abdul Zoldyck [SASUKE RETSUDEN MOVIE] (@Abdul_S17) February 19, 2020
Boruto will finally awaken Karma stage 2 and Jougan possibly and will go on a rampage.
SPOILERS; LEAKS for Chapter 43
Chapter Cover
Title: "The Apparition" Yellow text: The transmission of Shinobi genes Black text: the new team 7 is very united. We enter the decisive phase of Naruto's rescue
Other Spoilers are not released yet and will release soon, please wait till then. The Spoilers, leaks, raw scans, images, and fan translations will release then.
STAY TUNED WE WILL UPDATE THIS ARTICLE THREAD AS SOON AS ANY NEW INFORMATION RELEASES!
Who will save Naruto now?
Boruto, Kawaki, Kashin Koji, Mitsuki, Sarada, Sakura, Sasuke might play important roles in the upcoming chapters, the latest one being Chapter 43.
In earlier chapters, Kashin Koji said that he will try to kill Jigen because he is a bit weakened by the fight with Naruto, Sasuke. Will he be successful in defeating Jigen?
Discuss in the comments about Boruto: Naruto Next Generation's latest Chapter below. Boruto manga is rising, keep supporting it. Also, check about the latest demon slayer chapter.