One Piece Chapter 969 Spoilers, Release Date, News Leaks, Release Updates, Discussion Mega Thread for Live countdown to English scans, official links, Raw scan spoilers. One Piece Chapter 969 release date is on 26 January 2020 officially. While the anime is behind manga and is currently on Episode 919.
Feel free to discuss in the comments section below or for questions, catch us on our One Piece Discord or Twitter handle.
Roger pirates ultimately disbanded in the previous Chapter as Roger left due to his illness, while now Oden returns back to Wano and finds factories of weapons and his wife hurt, he straight away gets angered and visits Orochi to settle things. We do not own One Piece. This is just a discussion thread.
How much time is left for One Piece Chapter 969 to be LIVE?
Live Countdown to the next chapter (Time left for the Chapter for every country):
(Visit below after this Countdown ends), We do not provide unofficial links. Fan translations might get the chapter early but always read the official release.
Where to Read/Watch One Piece Chapters Officially?
WEBSITE LINKS
(*Download the Shonen Jump app from play store or app store and search for ONE PIECE in it.)
One Piece Chapter 969 Spoilers and Raw Scan leaks Machine Translations
Both images below are for information and fact purposes only, no full chapter was posted here. These are the Machine translations from Korean.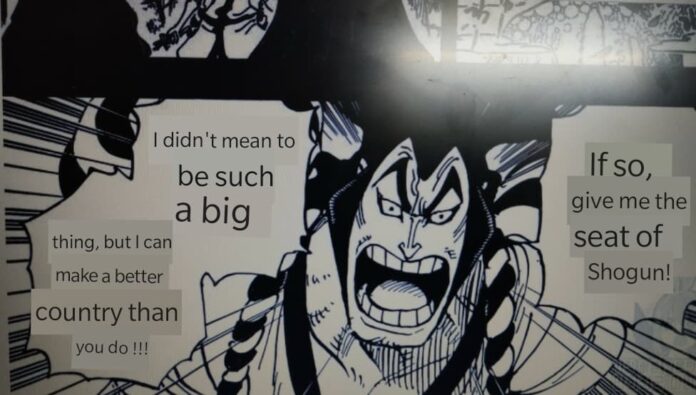 Maybe you all can find more images here.
STAY TUNED WE WILL UPDATE THIS ARTICLE THREAD AS SOON AS ANY NEW INFORMATION RELEASES!
One Piece Confirmed as Top-Selling Manga as per Crunchyroll
Coming in the surprising second spot was the Koyoharu Gotoge's 'Demon Slayer: Kimetsu no Yaiba.' And 'Kingdom manga' got the third spot.
Comment down your opinions/thoughts below about OP chapter 969 in the comment section or join our Discord.