Are you wondering who the Top 10 Strongest My Hero Academia Characters are? Wait no more- we have a list for you right here. Boku no Hero Academia or My Hero Academia might have the largest fanbase around the world right now.
If those who have not seen anime are aware of this mighty name. In such a case there are a lot of theories about who is more powerful. The anime and the manga have a bit of gap between them, but we have covered both. We tried to come up with a list that holds all the basic heroes, and might even some villains. Come on, let us take a look.
Top 10 Strongest My Hero Academia Characters
10. Bakugou Katsuki
Bakugou Katsuki- the self-proclaimed strongest hero has to be on our list. Though he is not a pro hero yet-, no one can deny his potential. He is a big bully, but he has our hearts. The fact that his quirk is one of the strongest is undeniable too.
But, he develops a lot. He learns from people and tries very hard to be the top hero.
9. Shoto Todoroki
Todoroki who also happens to be the son of the Second Most Powerful Hero- Enji Todoroki or Endeavor is in our list of Top 10 Strongest My Hero Academia Characters. Any of you might disagree with the choice of putting him ahead of Katsuki in this list.
But, he is quite strong with two of his quirks mixed together. Also, he thinks that he will take revenge on his father by refusing to use his fire quirk of his.
8. Eraser Head
Aizawa Shouta or Erasure Head happens to be our favorite class teacher of 1-A or the Hero Course. But, there is no stopping this man. He might lack in strength, but he makes up for that with his tactics. Aizawa is quite cunning on the battlefield and has the enemies bow down to him. He will take care of his students to the extreme. He can erase or nullify quirks.
7. Mirio Togata
One of the Big Three of U.A- Mirio Togata or Lemellion happens to be one of the strongest in the school. Some say he can even become the next top hero. There are other students too, but he is the strongest in the trio.
He also happened to be one of the successors in mind for the One for All Quirk, but his own quirk- Permeation is so strong that All Might later choose Deku.
6. Mirko
Next on our list of Top 10 Strongest My Hero Academia Characters, we have Mirko. Mirko is one of the strongest fighters on the list. Her physical strength is immense, and she likes to think with her muscles. There is no denying that she can take down some of the most troublesome villains all by herself.
5. Best Jeanist
Best Jeanist or the most discipline hero that happens to be the fourth hero in Japan is here on our list of Top 10 Strongest My Hero Academia Characters. This man is a perfectionist, and later on, when All Might died- he went to the top 3.
Also known as the Fibre Master, Best Jeanist is one of the most useful people on the list. He can fight fiercely and think to the best.
Also, Read:- List Of Weakest To Strongest Hashira: Demon Slayer
4. Hawks
The Wing Hero is the youngest hero who got in the top heroes in Japan list. He is quite young, skilled, and talented. Roaming around in the air- his feathers are quite lethal and can kill you too. People love the bird. Later on, we will see that he acts as a spy too. He plays quite an important role in the second half of the manga. He has a background too. But, we do not wish to spoil the entire story for you.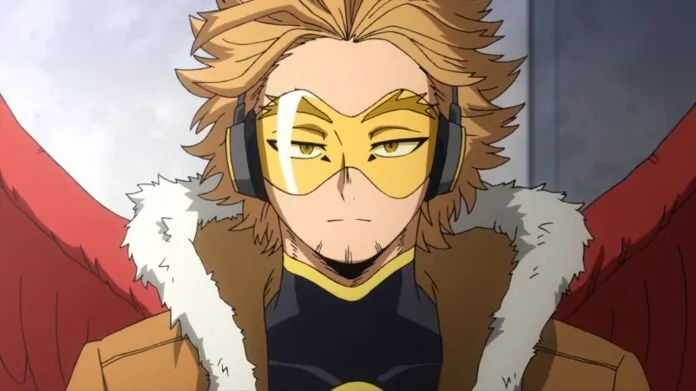 3. Endeavor
Endeavor or Enji Todoroki happens to get third place on our Top 10 Strongest My Hero Academia Characters list. But, he happens to be the second strongest hero in Japan. Later on, it is shown that he becomes the strongest when All Might retires. The man has always chosen power over anything. His training is hard too. And, he wants to make his son the strongest hero by training.
2. All For One
Next in our list, we have to include a villain. And, this is not just any villain- this is the All For One. The entire story has him as the main antagonist. He is the one who brainwashed Shigaraki and put the LOV against the heroes.
All Might defeated him once, and later we are sure Izuku will too.
1. One For All Users
Any Boku no Hero Academia list knows the answer to this question of Top 10 Strongest My Hero Academia Characters. The strongest has to be the One For All Users of each generation. We know All Might was the strongest hero of his time. And, then that title was taken up By Midoriya Izuku. The story is a tale of the past told by the future Izuku Midoriya. By the time, he is telling the story- he has already become the strongest hero of his time.
We are at the end of our Top 10 Strongest My Hero Academia Characters list. What do you think about it? Would you like to add some more? Let us know your thoughts in the comment section.
Thinking about starting Boku no Hero Academia before it ends? Click here to read from the first chapter.
You might wanna follow us for more anime and manga-related content. Do read All About the Demon System in Demon Slayer.